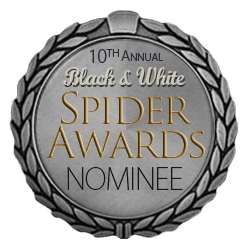 I was presented with the 10th Annual Black and White Spider Awards Nominee title for two of my images in the Nature and Still Life categories at the prestigious Nomination & Winners PhotoShow webcast Saturday, November 21, 2015. BLACK AND WHITE SPIDER AWARDS is the leading international award honoring excellence in black and white photography. This celebrated event shines a spotlight on the best professional and amateur photographers worldwide and honors the finest images with the highest achievements in black and white photography.
It is an incredible achievement to be selected among the best from the 7,686 global entries for 2015. My image,
Winter Haiku 3
won a Nomination Award in
Nature
, and
Last Bloom
won in the
Still Life
category. My images will be showcased in the Winner's Gallery; virtual gallery opens on December 15, 2015; see below links to view all winners in these categories. Images will also be published in
The Journal
, a digital publication featuring curated collections of award winning photography. Nominees issue will be released in January, 2016.
Go to this link to see
ALL winners for ALL categories
:
http://www.thespiderawards.com/10thshow/
Go to this link to see all the Nomination Winners for
NATURE
:
http://www.thespiderawards.com/10thshow/nominations.php?x=p&cid=290
Go to this link to see all the Nomination Winners for
STILL LIFE:
http://www.thespiderawards.com/10thshow/nominations.php?x=p&cid=297
Last Bloom
© 2005, Joanne Scherf
Still Life Nomination Award