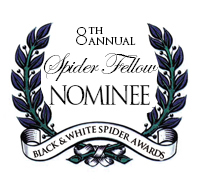 LONDON October 19, 2008
Professional photographer, Joanne Scherf of the United States was presented with the 8th Annual Black and White Spider Awards Nominee in four categories: Abstract, Fine Art, Nature, and People at a prestigious Nomination & Winners Photo Show. The live online ceremony webcast Saturday, October 19, 2013 was attended by photography fans in 75 countries who logged on to see the climax of the industry's most important event for black and white photography.
The awards international Jury included captains of the industry from the Tate in London, Heffel Fine Art, FoMu Fotomuseum, FTM Advisory, Camera Work, Art Stage Singapore, Aeroplastics Contemporary, Galerie Baudoin Lebon in Paris, to Fratelli Alinari in Florence who honored Spider Fellows with 246 coveted title awards and 938 nominees in 14 categories.
"It is an incredible achievement to be selected among the best from the 9,456 entries we received this year," said Basil O'Brien, the awards Creative Director. "Joanne Scherf was nominated for the following categories/image titles: Abstract - "Slinky", Fine Art -"Fences", Nature - "Winter Haiku 2", and People -"Patriot" All of Joanne's exceptional images entered in competition represents black and white photography at its finest, and we're pleased to present her with four titles of Nominee in Abstract, Fine Art, Nature, and People categories.
BLACK AND WHITE SPIDER AWARDS is the leading international award honoring excellence in black and white photography. This celebrated event shines a spotlight on the best professional and amateur photographers worldwide and honors the finest images with the highest achievements in black and white photography.
Contact: Joanne Scherf
Telephone: (248) 544-9394
Email: joanne@joannescherf.com
Website: www.joannescherf.com
Abstract Nominee Award
Slinky
© Joanne Scherf
Fine Art Nominee Award
Fences
© Joanne Scherf
Nature Nominee Award
Winter Haiku 2
© Joanne Scherf
People Nominee Award
Patriot
© Joanne Scherf
Bottom line...I'm thrilled to have achieved 4 nominations in 4 categories amidst a field of 9,500 international entries. Out of the field of 9,500 entries there were about 120 to 160 entries (in each category) that achieved "nomination" status and made it into the finals round. Ultimately there were 3 finalist in each of the 14 categories and a few honorable mentions. The final outcome was that my 4 nominated images did not win the category overall but I'm proud and fortunate to have earned 4 nominations in this prestigious global competition, especially on my first time entering this show. Although always "in it to win", several juried shows I enter I do so for the main purpose of getting my work viewed by specific jurors either because of their status in the industry or whom they represent. No pun intended, it's all about getting the right exposure for one's work as one never knows what could become of such global exposure.
For those interested here are the Black & White Spider Awards website links to view the Nomination winners and also the Winners of the 4 categories I entered: Abstract, Fine Art, Nature, and People. This will give you an idea of the competition and ultimate overall winners in these categories.
As I mentioned the jury panel was impressive and extensive. The Black & White Spider Awards nominees and winners are selected by members of the Jury composed of world-class and the most respected names in the industry. Here's a list of the galleries, publications, etc represented in the juried panel. Again, I'm ecstatic that my work was viewed by all the world-class jurors!
Tate Gallery, London

FotoMuseum, Antwerp

Fahey/Klein Gallery, LA

Cheim & Reid, NYC

Filippo Tattoni-Marcozzi, London

Camera Work, Berlin

Fu Xin Gallery, Shanghai

Art Stage, Singapore

Galerie Kornfeld, Berlin

Vanguard Gallery, Shanghai

Museum of Contemporary Canadian Art, Toronto

VI Gallery, Copenhagen

Triumph Gallery, Moscow

Galeria Hilario Galguera, Mexico City

L'ile Aux Images, Paris

Strother Fine Art, Frankfurt

Galeria Carles Tache, Barcelona

Baudoin lebon, Paris

National Geographic, Washington DC

The Art Newspaper, London

Fratelli Alinari Photography Museum, Florence

Galerie LeRoyer, Montreal
Sandra Byron Gallery, Sydney
Galerija Fotografija, Slovenia
Heffel Fine Art Auction House, Canada
CerModern, Ankara
Fifty One Gallery, Belgium
Aeroplastics Contemporary, Brussels
Billirubin Gallery, Berlin
Studio Magazines
Apogee Photo Magazine